GB-1 type
Intended use: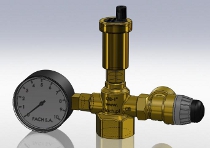 Safety group GB-1" is designed to protect boiler against excessive pressure buildup in closed central heating systems.
The set consists of safety valve ZB-14, pressure gauge 0-10 bar (with red pointer normally set at nominal pressure), automatic venting valve, and foot valves.
Design:
Housings of the GB-1" and safety valve ZB-14 are made of brazen forging. The housings of vent and foot valves are made of brass. Valve knob and cap made of polyamide reinforced with fibre glass, membrane and gasket of rubber resistant to hot water at the temperature up to 130 °C, springs made of corrosion-resistant steel. Other internal elements of safety valve are made of brass.
Fitting:
Fit the unit as close as possible to hot water boiler, above its upper level. It is not allowed to install check valves or cut-off valves between the boiler and the safety group.
The safety group is designed to secure heating system against excessive pressure buildup; in case if preset pressure value is exceeded, surplus medium is released from the system. Additionally, automatic venting valve is intended to remove from the system air contained in medium; pressure gauge shows current pressure in the system.
Foot valves allow withdrawing pressure gauge and automatic venting valve from the unit without the need to bleed medium from the system. After fitting in the system, the delivered shipping container works as thermo-insulation.
Safety valve should be installed so as to ensure that outlet (release) piece is not pointed upwards - it may be set in any axis position from horizontal to vertical downwards. It is possible to connect to the valve outlet piece (outlet direction is marked with an arrow on valve housing) an outlet (release) pipe with the same cross-section as valve outlet piece. Outlet pipe should be laid inclined, and have no more than two bends; pipe length - maximum 2 m. Water discharge from outlet piece or pipe should be well-visible and located so that hot water outflow poses no hazard for operators and maintenance personnel. Water outflow from outlet pipe should be free; the pipe should end above water outlet or outflow funnel. Cross-section area of discharge pipe after the funnel should be minimum twice larger than outlet pipe cross-section area. Installed safety valve should be easily accessible, and outlet valve and piece should be protected against freezing.
Maintenance:
Correct safety valve operation shall be checked each time when starting up the system, and then routinely. In order to do that, turn valve cap to allow water flowing out into discharge pipe. Then, turn the cap back to its previous position and press against valve housing. If valve does not close tight, repeat the operation (wash valve seat). If valve doesn't open (no water leak) or does not close, contact a specialist licenced in pressure equipment servicing
Caution:
It is never allowed to stop water leaks.
Download:

specification format pdf - download