Injection Rail TAURUS
Application: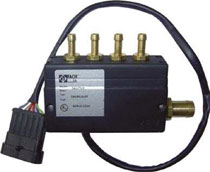 Bus is designed for sequential gas injection installations in vehicles equipped with gasoline engines. It assures a precise dosing of evaporated and filtered gas to inlet channel of each engine cylinder separately.
Certification:
The produced injection bus is classified as 2A. It has a certification according to the ECE regulation 67.01 No. E8 67R- 014220.
Construction:
Basic rail elements are made of aluminum and plastics resisting action of LPG or rock-oil derivative products. All the sealing maintains its parameters within entire injector working temperature range. Ending of feeder cables is equipped with AMP 282108 plug.
Assembly:
Valve should be mounted in the shorter possible distance from the engine inlet channel. The shorter is the distance between LPG gas injection and gasoline injectors, the better would be the driving dynamic while using LPG gas. It should be assembled by means of two vibration absorbers (catalog number 0043-0003) located on openings. The aim of these absorbers is to minimize the influence of car vibrations. Position of bus assembly has no influence on its proper functioning.
In order to assure proper functioning of the bus and in order to prevent gasoline injectors against damages, a filter of volatile phase has to be assembled. This filter is also offered by Fabryka Automatyki "FACH S.A." (catalog number 0213 for different performance variants). As the gas inlet channel is manufactured as a open ended channel, its opening located on the opposite end to the inlet should be blocked with a stopper (catalog number 0216-0002) or ferrule equipped with temperature sensor. Also available reduction from threads of 3/8" to 1/8".
Separate matter, not strictly connected with injector offered by our company, but having significant effect to proper operation of a car gas installation is a condition of volatile-phase filter insert. It is necessary to carry, beside periodical surveys of all gas installation, surveys of the volatile-phase filter insert on regular basis. This insert should be replaced by new one if necessary / dirty. Frequency of filter insert condition surveys depends on different quality and purity of the gas offered by LPG filling stations. The filter control intervals shall be ca. 5,000 - 7,000 km.
Download:

specification format pdf - download