EZO-TP 12R
Construction: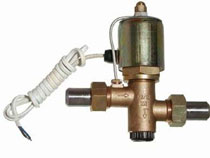 This valve is pilot operated with main A-B flow normally closed. When energized the solenoid coil provides a strong magnetic force which pulls a plunger up into the plunger tube. This opens the outlet pilot orifice and closes the inlet pilot orifice. The pressure above the piston is reduced to the outlet pressure of the valve. The resulting pressure differential across the piston lifts the piston up opening the main A-B flow and closing by the auxiliary piston the B-C flow. Deenergizing the coil resets the piston down. This closes the A-B flow and opens the B-C flow.
The pilot operated system is more efficient that the direct operated and is less energy consuming, but needs a minimum pressure difference across the valve. This valve will not open at a pressure difference lower that 0,1 MPa and over 1 MPa. It is required a minimum 0,3 MPa pressure in the installation for air tightness of the outlet port C. This valve of extra design can be manually controlled by the push button build in the upper part of the coil.
This enables a manual control of the valve in the event of loss of power or a coil failure and is convenient for testing or setting the unit. The valve has forged brass body, other parts are of stainless steel or corrosion-proof alloys. The valve head rubber is oil resistant.
Mounting:
These valves should be mounted in a vertical position with the coil upwards. The direction of flow through the valve should be in accordance with the arrow marked on the valve body. Mounting should be realized by connectors welded on the pipes and screwed to the valve body and ring gaskets. When the flowing air is mechanical impurited a proper strainer should be installed ahead of the valve. After mounting the valve body must be earthed using the earth terminal.
Application:
The 3-way solenoid valve EZO-TP12R type can be used for controlling the air flow in pneumatic pipe installations like pneumatic power cylinders, compressed air tanks etc. It may be operated by a variety of electrical switches.
Download:

specification format pdf - download