ZB-14 type
Construction: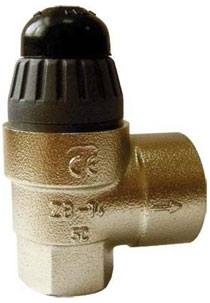 Materials: valve body and head -CuZn39Pb2 forging brass inside parts-brass diaphragm - rubber resistant to hot water up to 130°C and ageing proof spring-stainless steel knob -glass fiber reinforced plastic temperature resistant.
Mounting:
The safety valve should be mounted on cold water supply line. It is recommended to install the safety valve over hot water level at reservoir to avoid it emptying. The overflow outlet position should be between downward and horizontal, cannot be upward. The min. inside diameter of supply line is 15 mm. The supply line cannot be blocked or closed, strainers and chokes are forbidden. The overflow outlet can be connected with funnel using the pipe having the cross section at least equal to overflow outlet one. The outlet pipe cannot be longer than 2 m., should be placed with slope and max two bends. Th outflow of water must be free and visible. The servicing personnel should be protected against injury. The cross section of funnel pipe must be at least twice as the overflow outlet one The safety valve must be easy accessible after mounting. The valve and outflow pipe must be protected against freeze-up.
Application:
The ZB-14 safety valves are designed for protection against to high water pressure inside closed water reservoirs, especially for central heating systems and in the storage water heaters.
Maintenance:
The proper operation of valve should be verified before every start-up and at least once a month turning the knob to position when water is flowing through the overflow outlet and following turning the knob to it down position with pressing to the valve body. If water still flow the valve should be swilled by repeated opening and closing. If water does not flow after opening the valve call the authorized service man.
Download:

specification format pdf - download

instruction regarding the codification of the safety valves pdf format - download

declaration of conformity CE pdf format - download